Executive Summary
Security of Payment (SOP) refers to a fundamental principle in the construction industry that attempts to ensure all parties involved in a construction project are paid for their work or the goods and services they have provided. This principle is often enshrined in legislation and includes a fast and efficient mechanism for resolving payment disputes known as adjudication.
SOP focuses on contractors, subcontractors, suppliers, and workers in the construction industry. These individuals and businesses are often at risk of not being paid promptly or at all due to the complex nature of construction projects, which can involve numerous parties and layers of contracting.
SOP laws and regulations are designed to protect these parties, ensuring they receive fair payment for their work and reducing the risk of insolvency and financial hardship within the industry.
In essence, SOP is about fairness and financial stability in the construction industry, ensuring that those who contribute their labour, skills, materials, and services to a construction project are adequately compensated.
As a passionate advocate for fairness and transparency in the Queensland construction industry, I have written extensively about SOP. I have done so, not as a lawyer but as a person who has leaned heavily into SOP for almost 30 years through two lenses, namely:
working for the Queensland industry regulator for 22 years,
the balance with Helix.
This journal is a summary of 105 articles I have authored and published concerning various SOP issues since 2017. My initial reading of the Building Industry Fairness (Security of Payment) Bill 2017 ('BIF Bill'), tabled in parliament on 22 August 2017, motivated me to write my first Helix SOP article.
To say that I was astonished at the magnitude and scope of the reforms outlined in this 215-page BIF Bill would be an understatement. I was instantly concerned about certain aspects of these reforms. Based on my extensive experience in SOP issues, I knew that many industry parties would struggle to understand their obligations and responsibilities. I decided the best thing I could do was to write about my concerns in a respectful manner, but at the same time encourage parties to become informed. I even did an Instagram post on 3 September 2017 where I stated:
"I have a platform and a voice that I intend to use in the next couple of months. I have a unique understanding of the building industry from a policy and legislative perspective."
A couple of months have turned into 6 years!
While I always endeavoured to present an accurate reflection of the industry landscape as it was at the time of publishing these articles, the fact is that the industry is dynamic and certain aspects may have evolved or substantially changed since the original articles were published.
In other words, these articles represent my views on various SOP issues at a particular point in time and are not necessarily accurate as of the date of publishing t

his journal.
Why refer to these previous articles at all?
I believe that for industry parties to fully appreciate the status of various SOP issues and the numerous legislative obligations they are now expected to comply with, it is very important for it to be detailed as to how we arrived at the current position in each instance. My articles over this 6-year period outline dozens of new and amended legislative SOP positions. In all instances, I have attempted to detail the reasoning or justification for these developments and express my views on them.
Furthermore, there are also lessons to learn when it comes to the future formulation of relevant SOP industry regulations.
Readers will find all these articles under one of the 10 categories. Categories 1 through 8 are preluded with an overview of the articles, capturing the essence of my views at the time of publishing, as well as current, updated information and views that I consider relevant. The final two categories, 9 and 10 encompass a range of issues making a summary and update impractical.
Let's pause and talk about insolvency
I will address this significant industry issue in detail later in this journal, but I feel compelled to first, highlight the continuing unacceptable level of insolvency within the industry.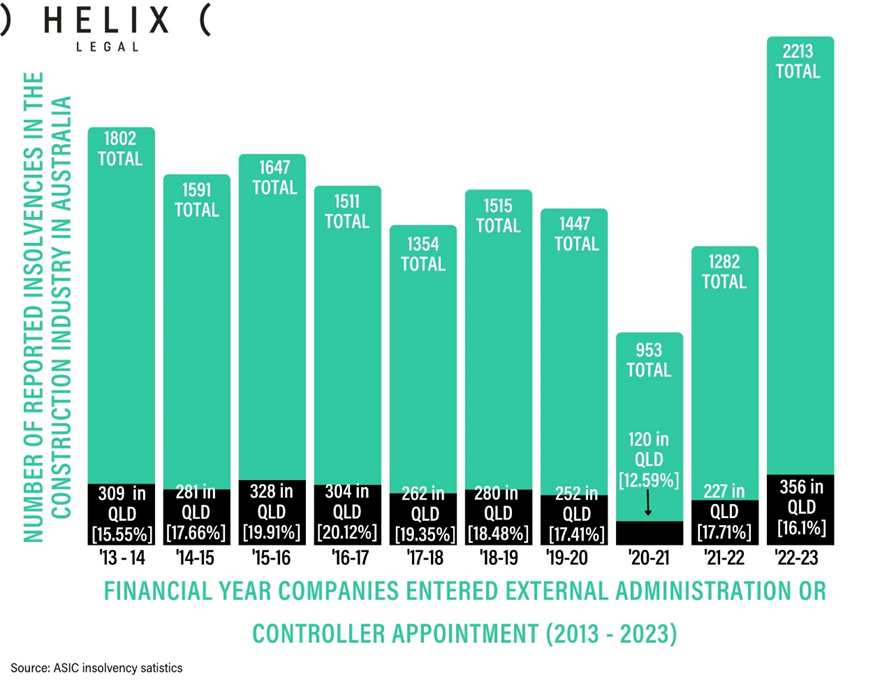 The number of businesses succumbing to external administration or controller appointments is of great concern. When I see industry insolvency statistics, I do not see numbers, I see people adversely affected by these collapses. One party succumbing to insolvency is one too many.
However, unfortunately, the rate of insolvency in the construction industry has been a major concern for decades.
In his final report of a review of Security of Payment Laws dated 21 May 2018, Mr John Murray AM, stated (page 16):
"Over the past decade, while the construction industry has accounted for 8–10% of GDP, it has also accounted for 20–25% of all insolvencies in Australia. Indeed, there are on average more than 1700 insolvencies in the construction industry every year, affecting thousands more creditors."
'Lies, damned lies and statistics'
I value statistics from trusted sources very much but unless they were presented in context, they can be very misleading.
For example and referring to the ASIC statistics I have produced in this executive summary, I have read articles highlighting the dramatic increase in insolvencies between the 2021/2022 and 2022/2023 financial years. A 58% increase in insolvencies.
However, this comparison in my view, gives a false picture as initially, insolvencies during the COVID-19 impacted years were significantly down primarily because of government stimulus and the ATO putting on hold outstanding taxation recoveries.
The record number of insolvencies in the 2022/2023 financial year (2213) is in my view, a consequence of a 'catch-up' of insolvencies occurring.
In view of this COVID-19 disruption, to currently gauge the extent and impact of insolvencies in the industry, I urge readers to tally up the yearly statistics for the COVID-19 impacted period and determine a yearly average.
The yearly average number of insolvencies for the current 3-year impacted COVID-19 period (2020-2023) is 1,483, which is just a handful more (36) than the 2019/2020 financial year. It is also approximately 200 less than the 'more than 1700' figure mentioned by Mr Murray.
However, I believe this year's statistics (2023/2024) will again be significantly COVID-19 impacted, and therefore this will be year 4 of COVID-19 impacted statistics.
I am of the view that for statistical purposes, this year (2023/2024) should be the last year to look at the number of company insolvencies on such a COVID-19 yearly average basis.
My reasoning for limiting this COVID-19 disrupted period to 4 years is simple. For 2 years of this period (2021-2022), the number of insolvencies was low because of government initiatives, followed by 2 years (2023 –2024) of insolvencies 'catch ups' occurring.
Some people will contend that the COVID-19 disruption to the industry will last much longer and that may be the case. However, over time, it will be impossible to attribute industry insolvencies to primarily COVID-19 factors.
Unfortunately, early indications are that the number of company insolvencies for the 2023-2024 FY will exceed last year's record number.
For July 2023, there were 378. compared to 261 for the same month last year.
What will the new 'normal' post COVID-19 company insolvency figure be? Will it be more than the previous 'more than 1700'? I believe that it is impossible to predict because of multiple and rapidly changing economic and industry circumstances.
However, for decades, regardless of whether the industry was experiencing a 'boom or bust' period, and prior to COVID-19, significant structural and behaviour failings have caused an unacceptable number of industry insolvencies.
In my view, it would be a serious mistake to look at the shocking number of insolvencies last financial year, and the expected high number this financial year, as solely due to COVID-19 induced factors.
There are no easy solutions to this perennial industry issue, and I am not going to pretend otherwise.
I would like to see the conversation shift from proposed new regulations or law reforms imposed on parties; to parties embracing early tendering involvement by all parties, honest and transparent sharing of key information, contractual changes where risks sit with the party best equipped to wear them, and a far more collaborative approach by parties. Furthermore, parties need to embrace the model of sustainability for ALL as the best long-term SOP solution.
Back to article categories
In conclusion, the Queensland construction industry's SOP landscape is complex and ever evolving. As we move forward, it's essential to continue advocating for clarity, fairness, and effective regulation. The goal is to create an industry where all parties can operate with confidence, knowing their rights are protected and their obligations are clear.
*To access categories click on the associated word
Not intended as legal advice. Read full disclaimer.
Michael Chesterman
September 12, 2023